Adobe Illustrator CC2015 and newer versions have auto-recovery feature as default. When Illustrator crashes or is not responding, force close the program and relaunch it and illustrator will ask you to open the auto-recovered documents from the last time it was saved. Once you open the recovered document, save it before you start working again.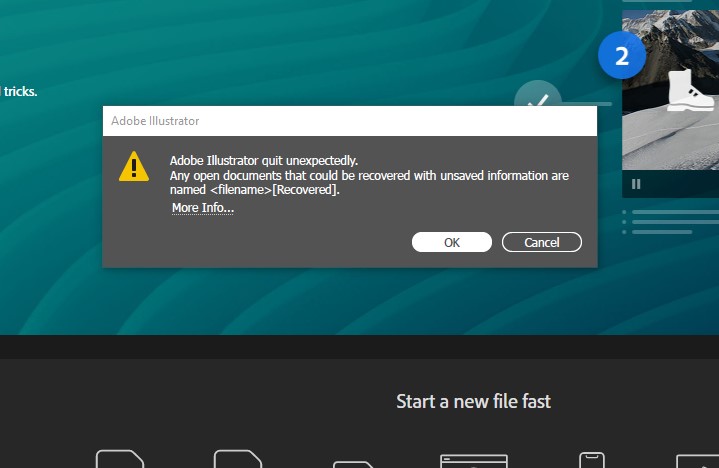 If you were working on a document that you are desperate to recover and are not sure if you had auto-save on, the best thing to do is wait for the program to respond. DO NOT repeatedly click on the screen. Close all other running programs on your PC if you can and give it an hour or leave it overnight. Hopefully, Illustrator will become responsive. If it doesn't or you simply can't wait, you will have to force quit the program.
If Illustrator is frozen and not responding, follow these steps to recover your files:
Force quit the program through task manager. On your keyboard, press CTRL+SHIFT+ESC. Select Illustrator in the task manager window and click "End Task".
Relaunch/open Illustrator.
After launch, Illustrator will bring up the Auto-recovery dialog box. Click "ok" to open the recovered files.
Save the recovered files immediately to your preferred destination so you don't lose them.
Gradient tool not working in Illustrator?
How to enable auto-save in Adobe Illustrator
To enable auto-save in Adobe Illustrator:
Go to Edit>Preferences>File Handling & Clipboard>Data Recovery.
Under "Data Recovery", check "Automatically Save Recovery Data Every…". If it's already checked, leave it as it is.
Select your preferred save interval in the drop-down menu to the right. 5 or 10 minutes is a good interval. Any faster and it might cause illustrator to hang if you have a slow computer.
Below that you can choose your preferred save location. Illustrator's default save destination on PC is C:\>\Users\<username>\AppData\Roaming\Adobe\Adobe Illustrator <version number> Settings\en_US*\x64\Adobe Illustrator Prefs/\DataRecovery. On a Mac the default is Macintosh hard disk/Users/<username>/Library/Preferences/Adobe Illustrator <version number> Settings/en_US*/Adobe Illustrator Prefs/ DataRecovery. You can leave it at default.
Click "ok" to save your settings. When Illustrator quits unexpectedly, your file will be recovered from its last save interval. The Auto-recovery dialog box will appear the next time you launch Illustrator and you can save your recovered files after opening them.
Why your illustrator keeps crashing or is unresponsive
Here are the reasons why your Adobe Illustrator keeps crashing, hanging or it's not responding and how to fix it:
Your computer's system files, cache, or Illustrator scratch disks are backed up. Fix: Restart your computer and clean your storage disks. You can do this safely without losing important files with a free cleaner like Ccleaner. Then restart Illustrator.
You've recently updated Adobe Illustrator or Creative cloud to a new version and it has bugs. Fix: Send a crash report to Adobe and Re-install the program or roll-back to your previous version.
Your version of Illustrator is outdated. Fix: Update your program.
GPU performance is eating up computing resources. Fix: Go to Edit>Preferences>Performance… Uncheck GPU Performance and click ok. Restart Illustrator.
You don't have enough RAM for your version of Adobe Illustrator. Fix: Close all other running programs, or Install an older version of Illustrator, or upgrade your PC's RAM if you can, or buy a more powerful PC.
Third-Party plug-ins are incompatible or causing errors. Fix: Uninstall the plug-ins from your computer's programs.
Anti-virus or Firewall blocking network endpoints that Adobe needs to work. Fix: Contact Adobe Support to help you find out what the problem may be.
Fonts are damaged or corrupted and are causing Illustrator to crash. Fix: check the troubleshooting guide on Adobe's help site.
How to force quit illustrator
To force illustrator to quit when it's hanging:
Press CTRL+SHIFT+ESC on your keyboard to open the Task Manager on PC. On Mac, press Option +Command+Esc.
Select Illustrator on the list of running programs and click "End Task" on PC or "Force Quit" on Mac.
You may also want to know What Does Rasterize Mean In Adobe Illustrator?