You are not able to save your file as a PNG in Photoshop because your document is in CMYK color mode or is set to 32-bit channel. You can confirm this by going to Image>Mode… PNG files can only be saved in RGB and only support 8-bit and 16-bit channels.
How to save your file as png in Photoshop
You don't have to convert your working document to CMYK. To save it as a png, go to File>Export>Export As… In the export dialog box, choose PNG under "format" then click Export All. Photoshop will automatically convert the image to RGB and save it as a PNG without affecting the file on your canvas.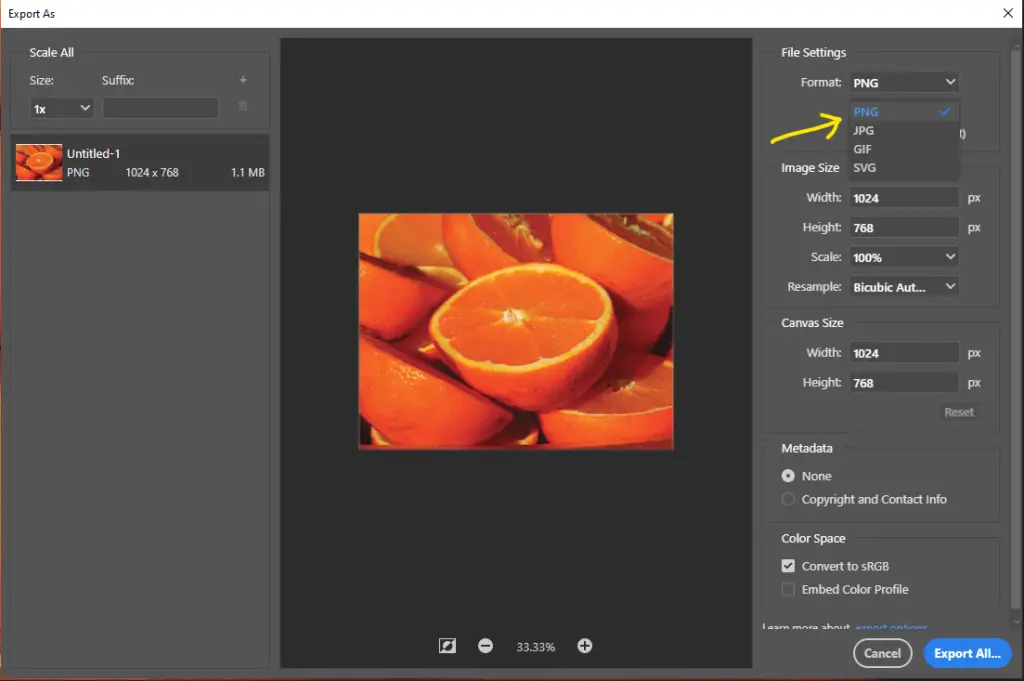 If your document is in RGB, you can use either Save as or Export As options.
Change to 8-bit or 16-bit to save as png
If still aren't able to "save as" yet your document is in RGB, the reason may be your file is set to the 32-bit channel. You should still be able to "Export As" or you can change your document to 8-bit or 16-bit in Image>Mode…
If any of the above solutions don't work, it is likely your Photoshop has a bug, especially if you are using the 2018 version. Update your program or contact adobe support.
What is a PNG
PNG stands for Portable Network Graphics. It is a format used to store bitmap images.

Why you may need to save your files as png

PNG supports a higher compression rate than other image formats (JPG, GIF). PNG also supports 8-bit or 16-bit color depth in RGB, RGBA channels. 8-bit color depth is pretty much the default, if not set in File>Mode…
How to make a PNG file in Photoshop
Choose File>Export… In the "Save As" dialog box, select PNG as the file format. Click Export All and name your file and choose the save location.
Conclusion
The main reason for this is that your document is not RGB. If you have a document in CMYK, you will only be able to "Export As" png. To export as PNG go to Export>Export As… and choose PNG as the file format and click Export All. Your PNG should save through this method.
Find out How to Change Photoshop from Grayscale Mode
Thanks for the read.