Converting a file from one format to another is crucial since it enables further manipulations on the file. Photoshop has multiple file conversion options. You can convert one file format to more than twenty different formats.
Unlike online conversion tools, Photoshop preserves the image quality since it does not compress the file. However, some file formats require plugins and extensions for them to open and convert to other formats.
Can Photoshop Convert PDF to JPG?
Yes, you can easily convert a PDF file to a JPEG image using Photoshop. To do this, you have to open the PDF document using Photoshop, do any necessary edits to the page(s), and then save each page as a JPEG. Below is a step-by-step guide on how to save a pdf as a jpg.
How to convert pdf to JPG in Photoshop
To convert a pdf file to a JPG file in Photoshop:
Open your PDF file in Photoshop by choosing File followed by Open
If it is a multiple-page document, shift-click to select the thumbnails of pages in your PDF file
Adjust each PDF page to your desired size.
To save as JPG, go to File, then select Save As and choose JPEG and click on Save.
For quality adjustments, you can go to Image Options and select the quality of your image between 0 and 12, in which the higher the number, the higher the quality and larger the final size of your JPEG file will be. Finally, select Format Options and choose from "Baseline (Standard)," "Optimized," or "Progressive."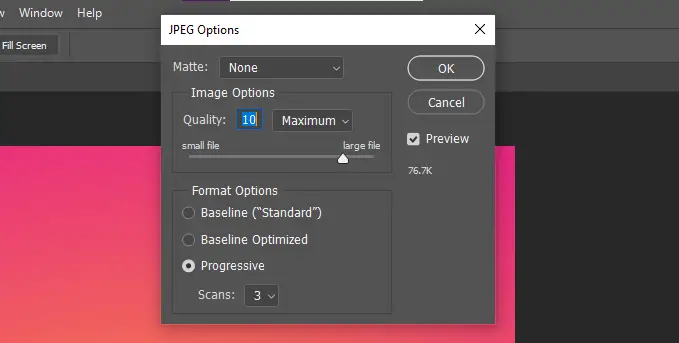 Read my guide on opening different file formats in Photoshop.
 How to convert HEIC to JPG in Photoshop
Photoshop does not have native support for the HEIC file format. As an end-user, you cannot open your HEIC files in the app on your computer. However, you can use a free online converter like iMobile HEIC Converters that enable you to convert your HEIC files JPG.
Once the site has loaded, choose the Click to Select button and add your HEIC files for conversion. Wait for the HEIC files to get converted and download the converted files to your computer. Now open your JPEG images with Photoshop.
How to convert WebP to JPG in Photoshop
Photoshop does not recognize WebP files. Therefore you will have to install WebP plugin from Google. First, install the WebP plugin for Mac or the WebP plugin for Windows. Now, uncompress the file and place it in Photoshop plugin folder. Re-start Photoshop, and after you open your WebP file, select Save As and choose JPG format to convert to a JPEG file.
Can Photoshop convert MOV to MP4
Photoshop can edit and do video conversion, although with limited control features. Adobe Premiere is better suited for editing videos and can do this conversion. Follow the guide below to convert using Photoshop if you don't have Premiere.
How to Convert MOV to MP4 using Photoshop
Open your MOV video file in Photoshop by Selecting File then click Open and choose in the file location
To convert to MP4, go to File and select Export and click on Render Video
In the Render Video dialog box, name the video and choose your destination to save
Choose either Adobe Media Encoder or Photoshop Image Sequence followed by a file format from the pop-up menu.
Now, under the range, specify the frames to render and in the sequence you need.
Finally, click Render to start the process, and your MOV will be converted to an MP4 video file
How to convert JPG to SVG in Photoshop
Photoshop CC has little vector capabilities, although Illustrator is predominantly the vector graphics editor. You can export JPG to SVG images with Photoshop CC 2015 and later versions. To export to SVG, first, open the JPG file in Photoshop. Next, go to File > Export As > SVG > Export. You can adjust the Width and Height of the image and canvas sizes from the File Settings menu
How to convert CR2 to JPG in Photoshop
Click on Files and select Script, then choose Image Processor.
Click on Select Folder in the Image Processor dialog box to access the folder containing your raw images.
Click on Select Folder in the second raw of the Image Processor dialog box to choose where to save your JPG files.
Under the File Type menu, choose Save as JPEG, then mark the Resize to Fit check box.
Mark the Convert Profile to sRGB and ICC profile checkboxes.
Click Run and Photoshop will automatically create a JPEG folder where you can find the converted images.
Conclusion
There are many reasons for converting files from one format to another. Adobe Photoshop continues to increase the file format conversion options to meet the needs of the users. Photoshop can convert pdfs to jpg among many conversion options. The beauty of Photoshop is its capability to maintain high quality when transforming files from one format to another.
Thanks for reading! Find out Can You Use Photoshop Actions in Affinity Photo?