Affinity Photo (AffPhoto) is a raster-based image-editing software offering all the necessary features and functionalities. If you are looking for a cheap and easy-to-learn image editor, consider Affinity Photo since it has an affordable one-time payment option. However, Adobe Photoshop is the most popular and powerful raster graphics editor.
Can Photoshop actions be used in Affinity Photo?
Photoshop actions cannot be added or used in Affinity Photo. However, you can open PSD files, save them in PSD format, and import brushes, including some Photoshop brushes (.abr) with Affinity Photo. However, you cannot use Photoshop to open Affinity Photo files (.afphoto) because they are incompatible with Photoshop unless converted to PSD files.
What are Macros in Affinity Photo?
Macro is a powerful, intuitive action recording and playback feature presented as the Macro pane in Affinity Photo. It allows you to record several operations and then play back sequentially as a single action.
Where to get free Macros for Affinity Photo
Affinity Photo Macros is equivalent to Photoshop Actions which allows you to automate your image editing. The Affinity Photo does not offer free Macros bundle. If you are looking for free Macros, you have to visit private sites and download them. You can download free Affinity Photo Macros bundle from sites like Affinity Revolution sites. For a small budget, you can buy a cheaper bundle at Artixty.
How to add Macros to Affinity Photo
After you have downloaded the macro file, install it in the Affinity Photo by accessing the library panel. Here are the steps:
Open the library Panel > View > Studio > Library > Import Macros. You will have successfully installed the macros, and you can delete the macros file that you downloaded since Affinity Photo does not need to use that file anymore.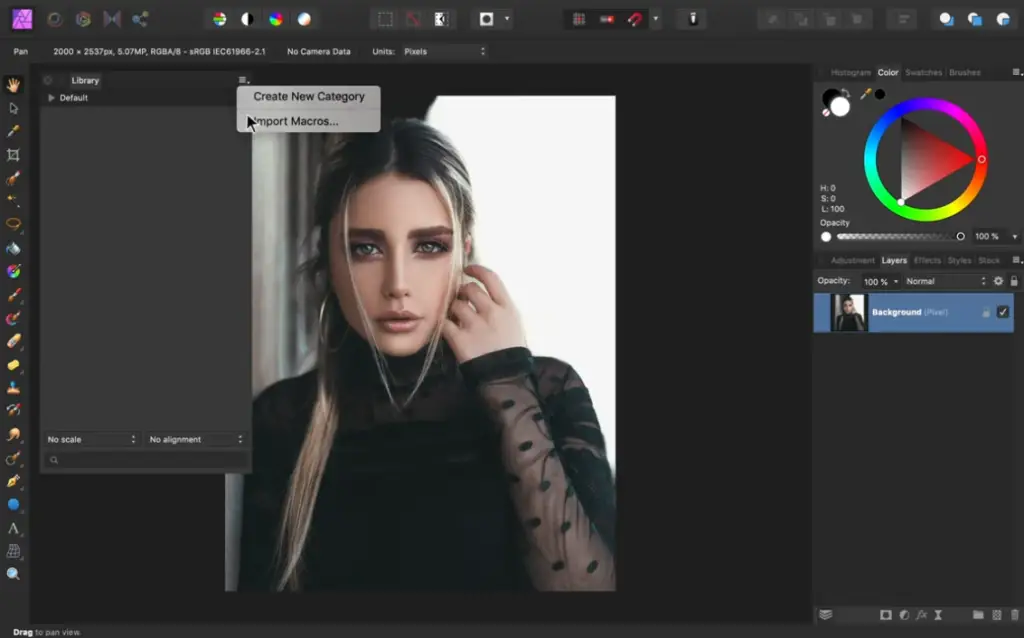 How to use junior macros in Affinity Photo
JR Macro pack contains functions for channel manipulation, such as creating greyscale pixel layers from colour information and separating channels into additive layers. The macro pack is mainly for advanced editors who need to perform tone and colour manipulations based on the channel information.
To use junior macros, go to View > Studio > Library > Import Macros. Now, open an image and click on the macro's name from the Library Panel. You can lower the opacity of the macro group if the effect is stronger and duplicate the macro group if the effect is not strong enough.
Also, you can change the opacity of each layer inside the macro group, and it allows the use of multiple macros on a single image.
Conclusion
Affinity Photo is an alternative Photoshop editor and has excellent image editing tools. You can perform most of the Photoshop actions with Affinity Photo. Therefore, if you are starting as a photographer, Affinity Photo is a low-cost alternative to Photoshop you can use. It has excellent capabilities of transforming images and is easy to use. If you later decide to use Photoshop, you save your Affinity Photo files as PSD to easily access them in Photoshop.
Thanks for the read! Check out Is Photoshop Worth the Price?