The cheapest way to get Photoshop is through the Photography plan as it offers Photoshop and Lightroom at a cheaper price than the standalone Photoshop option. Another option is to go for Photoshop Elements which involves a one-time payment.
Although this one-time payment for Elements seems high at the time (US $99.9) as compared to the other plans offered by Adobe it's a good deal when you realize that the monthly subscription of other Photoshop plans can add up over time to cost more than $99. On the other hand, Photoshop elements is a Lite version of Photoshop and does not carry all the features so it would only work for people who need basic image editing options.
Why the Photography Plan Is Cheaper than Photoshop Only
Note: Prices mentioned are subject to change. Check current plan prices on Adobe.
Photoshop only Vs Photography Plan
The Photography Plan is one of the best deals offered by Adobe to get Photoshop. At only US$9.99 per month, you would be getting Photoshop for desktop and Ipad, Lightroom and Lightroom Classic. Additionally, you would be getting 20 GB of cloud storage. This could be scaled up to 1 TB by paying more.
Compared to this the Adobe Single App Plan costs US$20.99, so if you were to get Photoshop only without buying any other apps you would be paying $10 more as compared to the Photography Plan. With this in mind it makes more sense from a financial point of view to buy the Photography Plan even if you only need Photoshop and not Lightroom.
How much is Photoshop for students?
Adobe offers a special discount of 60% for students on purchase of the Creative Cloud plan. This plan includes all the Adobe Apps and normally it costs US$52.99 per month but with the student discount, it costs only US$19.99 per month. To get the discount you either need documents to prove that you are a student at one of the accredited educational institutions or you need to register on the Adobe website with your official school email address.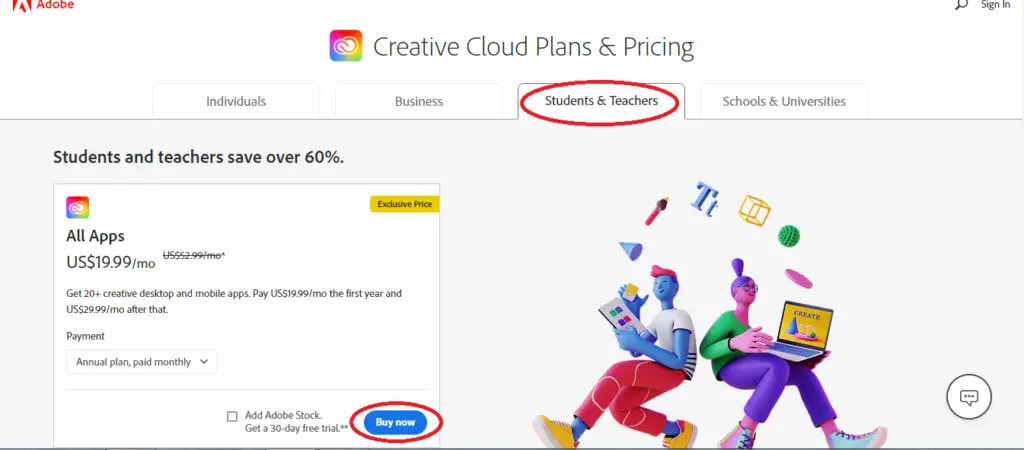 To purchase the student plan visit the Adobe products page and click on the Tab titled "Students and Teachers" (circled in red) and then click on Buy now. Make sure to register with your school email ID to get verified immediately.
Is there any way to get Photoshop for free legally?
No, Photoshop is a paid program and there is a monthly subscription that needs to be paid. There is a free 30-day trial period during which you can decide if you don't Photoshop you can unsubscribe. But obviously, you will also not have access to Photoshop after unsubscribing.
Is Photoshop in Adobe Creative Cloud?
Yes, Photoshop is available in Adobe Creative Cloud. The Creative Cloud has multiple plans including All Apps and the Photography Plan and Photoshop is available in both of these. It can also be purchased separately.
How much is Photoshop UK?
In the UK Photoshop alone costs £19.97. The entire Creative Cloud plan costs £49.94 per month and includes all the 20 plus apps that are part of Adobe's Image and Video editing library. After the student discount the UK price for the Creative Cloud All Apps plan is £16.24 per month.
How much is Photoshop for Mac?
Photoshop costs the same whether you download it for Mac or Windows. This means a price of $20.99 for a Single App and $9.99 for the Photography Plan on Mac.
Where to buy Photoshop CS6 (and make a onetime purchase of Photoshop)?
Photoshop CS6 is from 2017 when the Adobe package was labeled Creative Suite and involved a one-time purchase of Photoshop by buying a CD with an activation key. Since then, Adobe has switched to the Creative Cloud model which involves a monthly subscription package rather than paying only once.
Adobe does not officially sell Photoshop CS6 anymore so if you want a copy of CS6 the only way is to find it online through individual developers and sellers on websites like eBay.
Photoshop Elements is the only version of Photoshop which is currently available as a one-time purchase, as mentioned above. For someone who only needs to do photo editing, it is a good investment rather than paying a monthly subscription.
Conclusion
The cheapest way to get Photoshop as an individual buyer is through the Photography plan as it only costs $9.99 per month and also includes Lightroom. Other options include purchasing Photoshop Elements through a one-time purchase or if you are a student or teacher you could get a 60% discount on the Creative Cloud All Apps plan.
Thanks for reading my article. You may be interested in: Is photoshop good for video editing?