A Graphics Card is necessary for PCs as it renders images to the display. Without a Graphics Card, you won't be able to see any images on your monitor. So a GPU of some sort is needed even for the basic functioning of your PC. An image-processing software such as Photoshop would definitely require a Graphics card to use many of its functions.
The question you may want to ask is whether it needs a dedicated graphics card to run.
Can Photoshop run without a Graphics Card?
Yes, Photoshop can still run without a dedicated graphics card on an integrated GPU but the program will be laggy and many features won't work at all. Some features that you would be missing out on include; 3D rendering, Birds Eye View, Flick Panning, Oil painting effects, Perspective Warp, and the different Rendering tools.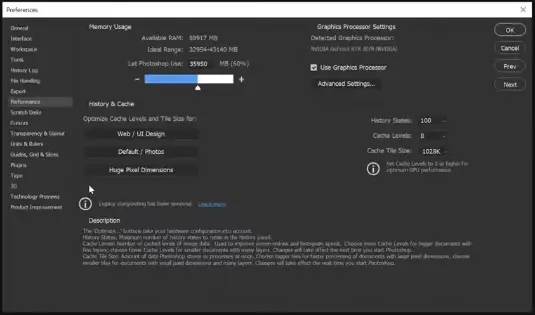 Other tools that would work but would lag a lot would include the Lens Blur, neural filters, blur gallery and select focus tools among others. As you can see the list is pretty extensive and so many features would be missing that it wouldn't make the use or price of Photoshop worth it to use it without a Graphics card.
Find out how to make Photoshop faster!
Photoshop Graphics Cards Requirements
To run Photoshop smoothly on your device you will need a Graphics Processing Unit with DirectX12 support and at least 2 GB of GPU memory though 4 GB would be better. You can read the full list of recommended Photoshop System requirements here.
A low-range card like Intel integrated GPUs could work for Photoshop but if you have more heavy-duty work such as 3D rendering a mid-range card like the ASUS GeForce GTX 1060 would be a better choice.
Can Intel Graphics run Photoshop?
Yes, Photoshop can run on Intel Graphics. Photoshop relies more on CPU than GPU to run, so a computer with a low-end GPU but high-end CPU and 8GB RAM will work great. Intel has integrated Graphics processors on laptops without the need for separate/dedicated Graphics Processing Units.
Having said that, running Photoshop on a computer with just Intel Graphics might not work for everyone as it also depends on the type of work you will be doing. For basic image editing, Intel Graphics is enough.
But if you will be performing any work involving 3D rendering you will need a dedicated Graphics Card as Intel Graphics alone will not be enough and your work will be considerably slowed down. Even the newer filters such as Liquify and Blur will slow down without a proper GPU.
The Best Graphics Cards for Photoshop
The best Graphics Cards for Photoshop are the Nvidia Graphics Cards. The Nvidia Geforce Graphics Card range is excellent for Photoshop while still staying within the low to medium price range, specifically the GeForce RTX 3070 family. AMD also has a good range of Graphics Cards such as the Radeon RX 6900 XT Performance and the Radeon RX 6800 (XT) Performance but overall Adobe products tend to work better with Nvidia Graphics Cards.
Conclusion
Photoshop can run without a dedicated graphics card, but without an adequate GPU (at least 2GB) Photoshop will start slowing down and lagging. Some features such as 3D rendering, Birds Eye View and Flick Panning among others won't work at all.
If you plan to use Photoshop for some heavy-duty, professional work then it is worth looking at some good quality Graphics Cards such as the Nvidia GeForce Range in order to boost performance.
Check out more info on Photoshop GPU needs on adobe.
Thanks for the read. You may be interested in the cheapest way to get Photoshop.