The difference between Photoshop and Photoshop CC is that Photoshop refers to the brand of Photo-editing software by Adobe while Photoshop CC refers to the subscription-based package of software offered since 2013.
The two terms refer to the same software, Photoshop is simply the umbrella term referring to all the releases since 1987.
The question you may have intended to ask is, what is the difference between Photoshop CC and Photoshop CS6?
Difference between Photoshop CC and CS6
Photoshop CC refers to the subscription-based release of Adobe's photo-editing software launched in 2013 (CC standing for Creative Cloud) while Photoshop CS6 refers to the last of the Creative Suite releases that were one-time purchases last offered in 2012.
There were a few significant feature updates between Photoshop CS6 and CC, the major one being integration into the new Creative Cloud, which allows seamless use with other Adobe apps and easy access to cloud libraries, Behance, and adobe stock right on the app interface.
Just like in the CS annual releases, Photoshop CC gets a few new features and bug fixes every turn of the year. So far there have been yearly releases including 2013's CC (version 14), CC 2014 (version 15), CC 2015 (version 16 and version 17), CC 2017 (version 18), CC 2018 (version 19), CC 2019 (version 20), 2020 (version 21), 2021 (version 22) and so on.
Listed below are the main differences between Photoshop CC and CS6:
| Photoshop CC | Photoshop CS6 |
| --- | --- |
| Subscription-based (paid monthly) | One-time purchase (no longer available) |
| Higher PC requirements to run | Lower PC requirements to run |
| Work in artboards | No artboards |
| Supports new file formats | Some new file formats won't open |
| Full Adobe support and upgrades | No Adobe support |
| New features and tools are available | Classic features, no new updates |
| Works with new plugins | Works with old plugins |
Which is better Photoshop CC or Photoshop CS6?
Photoshop CC, being the updated version of Photoshop CS6, is more powerful, has newer features and tools, and is more reliable considering the support offered. Based on that, Photoshop CC is better.
However, when it comes to pricing, it feels like a rip off and the design community has been vocal against the monthly subscription that they have to pay to use Photoshop CC. To put it into perspective, Photoshop CC 2021 costs US$24.14, at the writing of this article, compared to US$699 to buy the perpetual license for Photoshop CS6.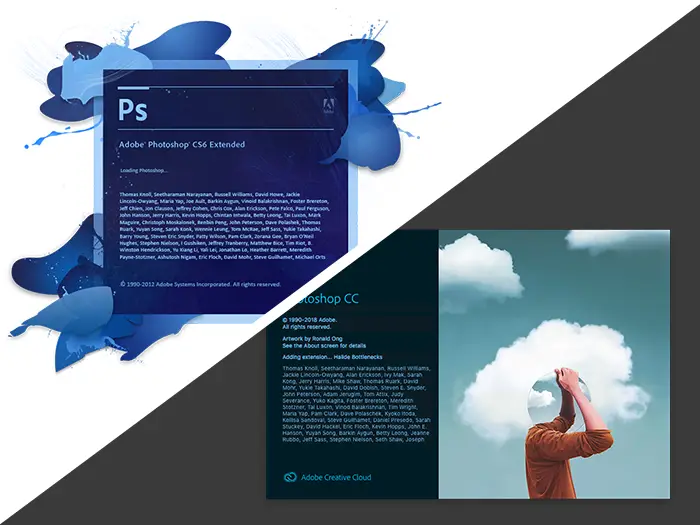 This means, in two and a half years, you'd have spent more on the subscription for Photoshop CC than to own Photoshop CS6 forever. Mind you, Photoshop CS6 was still way over-priced compared to its competitors.
Unfortunately, Photoshop CS6 or any of the CS programs are not available for purchase from Adobe. Photoshop currently only sells Photoshop CC as stand-alone software, as a package with lightroom, or as part of the full Creative Cloud subscription. Check pricing at the official Adobe site.
So what are the new features available in Photoshop CC that were not available in CS6?
New features and tools in Photoshop CC
Some of the new features introduced in Photoshop CC 2014
Perspective warp: Easily adjust perspective in images, especially those with straight lines and flat surfaces.
Print 3D objects: Generates support structures and automatically makes 3D models watertight for printing.
Linked Smart Objects: Smart objects are linked to external images. When the source image is updated, the changes automatically update to the smart object layer.
Generate image assets from layers: Directly export each layer as an image right on the layers panel.
Camera shake reduction improvements: automatically reduce image blurring caused by camera instability.
Integration with Behance: share your work on Behance directly on the photoshop interface.
Smart Sharpen: This allows you to minimize noise and halo effects using sliders and advanced controls.
Spot removal tool: remove visual imperfections, dust and spots.
Radial filter: Apply corrections within or outside a radial marquee area.
Conclusion
There are some significant new features added to Photoshop CC. In terms of capability, you can still edit photos in CS6 just as well as you would in CC, the new features just help you work more efficiently. The main difference between CS6 and CC is the monthly subscription in the latter, compared to the former's perpetual license.
There are free alternatives to Photoshop and Illustrator that work just as well. Check out my article on the 5 best free offline graphic design software.